Wondering can you take CBD Oil and Melatonin together?
One of the benefits of CBD you have probably heard of before is that it supports sleep. Some people use CBD oils and tinctures to soothe their anxiety or get better sleep. What you may not know is how exactly cannabidiol promotes a good night's sleep. When ingested, CBD causes certain reactions in your body that can help make it easier for you to fall asleep and stay asleep throughout the night.  It is vital to get an effective CBD oil dosage for sleep. Fat based oils will not be able to deliver an effective dosage. Our patented technology is the key to that. 
Having trouble getting a good night's rest? Ojai Energetics' all-natural Full Spectrum Hemp Elixir is a multi-purpose water-soluble CBD oil. Fast-acting, it can deliver CBD benefits, including improved sleep. This article will take a closer look at how CBD and melatonin interaction can lead to better sleep.
Explaining CBD and Melatonin Interaction
There are numerous reasons for bad sleep such as stress, anxiety, or environmental factors like noise and too much light. One thing known to better regulate your sleep-wake cycle is the hormone melatonin. Released by the pineal gland in your own body, the power of melatonin can be enhanced by cannabinoids like CBD.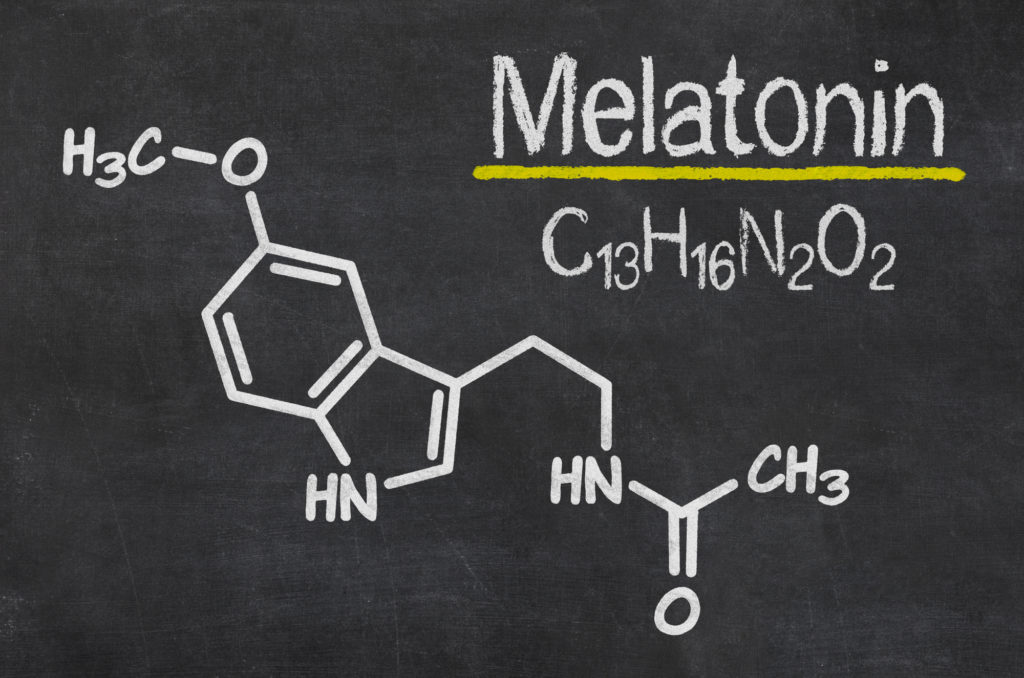 What Is Melatonin and Does Melatonin Help You Sleep Better?
A hormone produced by your own body, melatonin is released by the pineal gland in your brain to regulate your sleep-wake cycle. Melatonin links to the endocrine and circadian system, which produces melatonin and supports its natural production. These are the systems that regulate and run sleep function.
What Is The Endocannabinoid System?
The purpose of the endocannabinoid system is to ensure all of your body's functions are in harmony with one another and are staying in balance. It helps regulate homeostatic balance for all of your body's systems and functions including mood, appetite, and sleep. It also plays a role in regulating circadian rhythms and the endocrine system. Ojai Energetics CBD products provide the necessary fuel to optimize and feed the endocannabinoid system.
How CBD and Melatonin Leads to Sleep
CBD interacts with cannabinoid receptors in your body which in turn stimulates the endocannabinoid system. Since the endocannabinoid system helps regulate the endocrine and circadian system, taking CBD may help regulate your body's production of melatonin. Increased natural production of melatonin can then help improve your sleep-wake cycle, leading to a better sleep that lasts through the night.
Incorporate CBD Into Your Life
If you are having trouble falling and staying asleep, ask your doctor before using CBD. It is a safe routine and side effects are rare, but it is essential to talk to your doctor before taking any supplements of any kind, including CBD.
Hope you enjoy our articles on CBD and Melatonin. Explore our blog on ways to add CBD to your daily routine or cooking with CBD infused coconut oil.
At Ojai Energetics, we offer a variety of CBD products that you can use to support a healthier lifestyle. In addition to our Full Spectrum Hemp Elixir, we also offer a CBD coconut oil that's great for cooking and a CBD sports cream for those with active lifestyles. Read our blog on ways to add CBD to your daily routine. To order our natural CBD products!
 Additional Reading
How to Sleep Better at Night Using Brain.fm and CBD