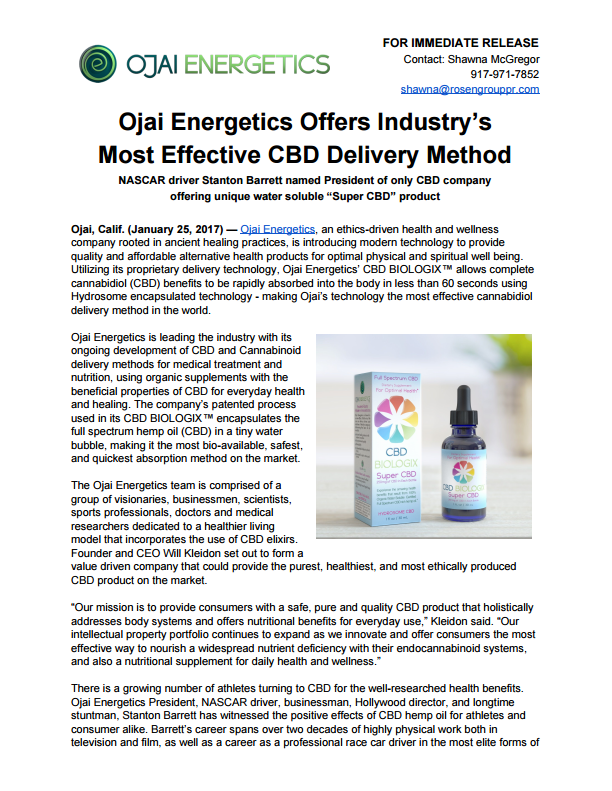 Ojai Energetics Offers Industry's
Most Effective CBD Delivery Method
OJAI Ca., January 25, 2017 – Ojai Energetics, an ethics-driven health and wellness company rooted in ancient healing practices, is introducing modern technology to provide quality and affordable alternative health products for optimal physical and spiritual well being. Utilizing its proprietary delivery technology, Ojai Energetics' CBD BIOLOGIX™ allows complete cannabidiol (CBD) benefits to be rapidly absorbed into the body in less than 60 seconds using Hydrosome encapsulated technology – making Ojai's technology the most effective cannabidiol delivery method in the world.
. . . .
Get Complete Press Release >>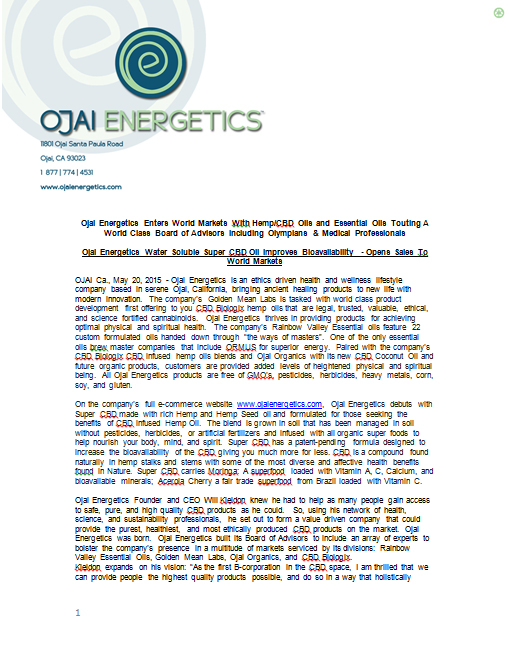 Ojai Energetics Enters World Markets With Hemp/CBD Oils and Essential Oils Touting A World Class Board of Advisors Including Olympians & Medical Professionals
OJAI Ca., May 20, 2015 – Ojai Energetics is an ethics driven health and wellness lifestyle company based in serene Ojai, California, bringing ancient healing products to new life with modern innovation. The company's Golden Mean Labs is tasked with world class product development first offering to you CBD Biologix hemp oils that are legal, trusted, valuable, ethical, and science fortified cannabinoids. Ojai Energetics thrives in providing products for achieving optimal physical and spiritual health. The company's Ojai Essential oils feature 22 custom formulated oils handed down through "the ways of masters". One of the only essential oils brew master companies that include ORMUS for superior energy. Paired with the company's CBD Biologix CBD infused hemp oils blends and Ojai Organics with its new CBD Coconut Oil and future organic products, customers are provided added levels of heightened physical and spiritual being. All Ojai Energetics products are free of GMO's, pesticides, herbicides, heavy metals, corn, soy, and gluten. . . .
Get Complete Press Release >>