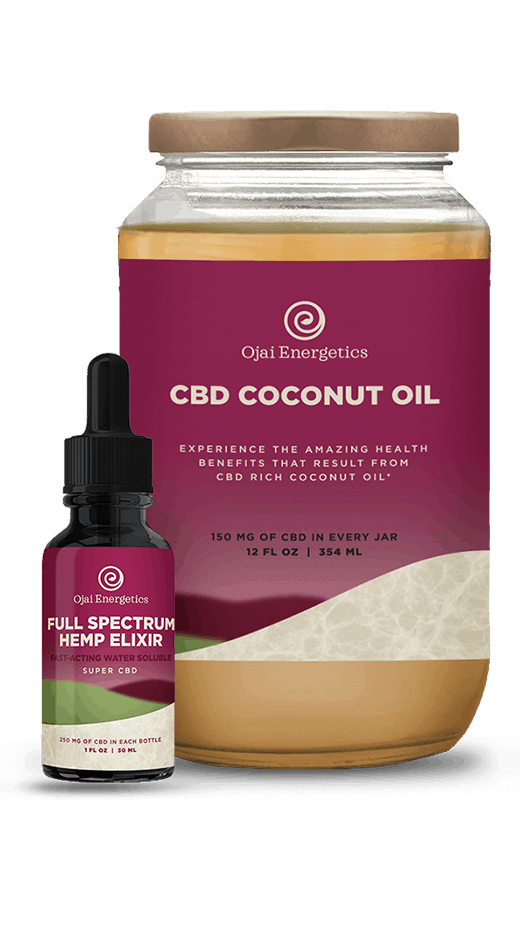 Ojai Energetics is optimized to feed your mind and body. Modern humans have lost touch with the sense of peace, balance, and relief that come from using a full spectrum hemp extract. Our
CBD starter oil kit
has all the products you need to get that feeling of balance back into your life. Look one of our
CBD trial offers
to see the benefits for yourself. Those benefits can include reduced inflammation from extreme exercise, managing daily stress, improved cognitive function, and improved quality of sleep.
We have unwavering dedication to environmental and socially responsible practices. What's in your hand is what real CBD-rich hemp looks and tastes like. We keep all the nutrients the way nature intended and we never use synthetics to alter it to make it look and taste different because we care about your health and we care about this amazing plant. For this reason, some batches may have slight changes in appearance and taste, just like a fine wine.
Ojai Energetics is the preferred CBD source powering products in the health and wellness industry. Our patented technology uses only certified organic plants and enables the fastest onset of any CBD product and the greatest bioavailability (how much your body can actually use). With the full spectrum hemp elixir and CBD-rich coconut oil in our
CBD starter kit
, you will feel the difference in minutes, not hours. 
CBD-enhanced Coconut Oil
Coconut is one of the world's most nourishing superfoods and is fast becoming a staple in modern health diets.

Ojai Energetics coconut oil is biodynamically grown and is raw, virgin, and cold expeller pressed.

This creamy taste of the tropics is great for smoothies, spreads, and enhancing favorite recipes. 

Add to coffee for a perfect boost.

A great addition for body care applications.

Perfect for oil pulling.

Lauric acid, a medium chain fatty acid, makes up to 50% of the content of coconut oil.

CBD provides some of the most diverse and effective health benefits found in nature.

Cooking at high heat may destroy the cannabinoids in this product. We recommend heating our CBD-rich coconut oil below 300°F in order to preserve the CBD content.

Store somewhere away from high heat.
Full Spectrum Hemp Elixir
The only full-spectrum organic CBD oil that's100% organic, full-spectrum and  water-soluble, made without synthetics or synthetically modified compounds.

Our patented nano-encapsulation technology allows you to feel the benefits of CBD in under 30 seconds.

The nano-encapsulation also allows for greatly increased bioavailability, nearly twenty times as much.

This full spectrum hemp elixir has more than just hemp in it, and includes some of nature's most powerful superfoods, like moringa and acerola cherry.

At Ojai Energetics, we love the earth and Mother Nature, so our label and reusable CBD tincture are eco-friendly and made in the USA. 
Guidelines for first time users and the benefits
Our
CBD Oil Starter Kit
includes everything you need to try CBD in a number of ways, and see how your life can be improved by using CBD. The
CBD starter kit
includes one Full Spectrum Hemp Elixir, and one 12oz jar of CBD-rich organic coconut oil. 
The elixir is gluten free, non-GMO, and contains no soy or corn and can be taken sublingually (under the tongue), used in food or drink, or even rubbed into the skin topically, up to eight times per day. The coconut oil is even more versatile, and can be used for cooking, used topically, added to coffee (to make CBD bulletproof coffee), for haircare, and anything else you'd use coconut oil for. Coconut oil is one of the healthiest oils we can eat or use topically, and it is rich in beneficial saturated fats. If you're interested in trying our
CBD starter kit
, check our website for periodic
CBD trial offers
.
Please note:
CBD can act like grapefruit so please talk to your healthcare practitioner if you are taking medication that says not to take with grapefruit before using our CBD Trial Pack. For those using insulin, please monitor blood sugar levels before the use of insulin after taking CBD Oil Starter Kit products, as CBD promotes healthy blood sugar levels in healthy individuals.

100% MONEY BACK GUARANTEE
SECURE ORDERING
Currently not available online. Please call or email to place you order.
We have taken some of the world's most powerful superfoods and combined them: hemp, coconut oil, moringa, and acerola cherry. You can use our
full spectrum hemp elixir
sublingually, topically, or even for cooking. You can
use our CBD-rich hemp coconut oil
for your coffee, skin, smoothies, hair, massages, and more! Your body will thank you
We searched the globe for the best coconut oil on the planet. Most coconut oil is heated, which creates a nutty taste, and kills off the enzymes. Our oil is truly raw and virgin, alive with enzymes and all the healthy fats that synergize perfectly with the CBD-rich hemp oil made from certified organic hemp flowers. Our patented nano-encapsulation technology allows our CBD to be the fastest acting on the market, potentially in less than 30 seconds. Not only is it the fastest acting, the CBD in our full spectrum hemp elixir and coconut oil is approximately 20 times more bioavailable than other CBD products on the market.
Not only is the coconut oil in our cbd oil starter kit certified organic, it's grown biodynamically and fair trade by family farmers. You're not only supporting a healthy planet when you buy our cbd trial pack, but also the people who grew and made this luscious superfood. When using a nano-sized CBD product it is important to go organic, because the molecules are small enough to get into the cells themselves, and our synthetic-free, organic full spectrum hemp elixir won't bring anything unwanted into your cells.