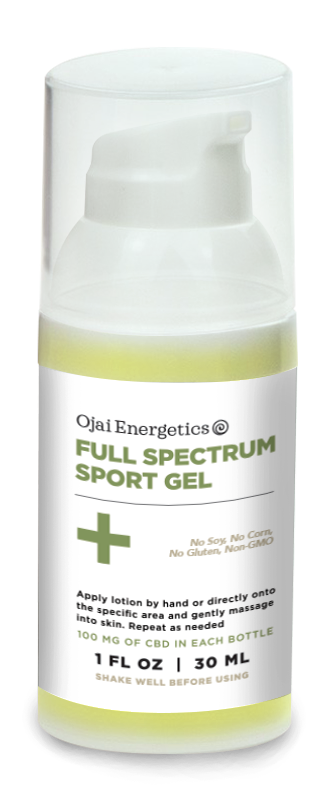 Our CBD Full Spectrum Sports Gel is a fast-acting gel featuring encapsulated hemp extract and powerful natural herbs. It acts quickly and is easy to use, as you just rub it onto the skin and massage it in gently. This is the only full-spectrum CBD that is water-soluble and fully organic without any synthetics. This full spectrum cannabinoid gel will easily fit in your sports bag, yoga bag, and can quickly become a must-have after a tough workout.
Featured:
Only water-soluble full-spectrum CBD without synthetics

Water-solubility leads to fast action

Formula for maximum CBD absorption, so more CBD compounds enter your bloodstream, letting you take full advantage of the CBD and other cannabinoids. 

Small bottle for high portability and the ability to fit in nearly any sports bag

Other certified organic herbs for maximum fast-acting effect

No GMOs, gluten, corn, or soy

Easy to Use: Apply by hand onto the affected area, then gently massage the CBD sports gel into your skin.
The ingredients in this CBD sport  gel are all carefully chosen for their synergistic features, from the full spectrum CBD extract to other powerful herbs. Take a look at the ingredients that made the cut for this fast-acting sports gel.
Full-Spectrum, Organic, Water-Soluble CBD:

Full-spectrum CBD contains all the naturally-occurring flavonoids, terpenes, and cannabinoids in the hemp plant, allowing for the entourage effect, which enhances the effects of the CBD. Unlike other water-soluble CBD extracts, our patented formula is fully certified organic

Arnica:

Arnica has been used for centuries for its health properties and abilities to soothe muscles. 

Calendula:

Calendula is another herbal superstar, thanks to its robust support of our skin, joints, and muscles.

Spilanthes:

Commonly called the toothache plant, this amazing plant has cannabinoid-like compounds and numbing properties.

Rosemary:

Rosemary contains terpenes that guide cannabinoids to support muscles and joints. 

Ginger:

Ginger contains terpenes that guide cannabinoids to support muscles and joints.

Mint:

Mint is commonly used to keep skin healthy and feeling great, and contains terpenes that guide cannabinoids to support muscles and joints.

Black Pepper:

Like many of the other ingredients, black pepper is rich in antioxidants and contains terpenes that guide cannabinoids to support muscles and joints.

Wintergreen:

Wintergreen leaf is associated with improving digestion, and helps support muscles

Eucalyptus:

Eucalyptus is rich in antioxidants and helps support muscles and joints.
All of our products, including this Full Spectrum Sports Gel, are the result of careful scientific research. This cannabidiol gel is protected by two U.S. patents, thanks to its scientific breakthroughs.

100% MONEY BACK GUARANTEE
SECURE ORDERING
FULL SPECTRUM SPORTS GEL SHOP
Opposed to the 30 minutes it takes a regular CBD drop of rich hemp oil. This makes our CBD oil 60 times as fast as those regular ones.
Regular CBD-rich, fat-based oils take 30 minutes or more before the cannabinoids can make it into the blood after being encapsulated in the gut. Ojai Energetics organic CBD oil gets absorbed the second it makes contact in the body.
The Full Spectrum CBD Sports Gel contains some of the world's most powerful botanicals like Arnica, Calendula, Spilanthes, Rosemary, Ginger and Mint to provide the ultimate user experience. 
While other water-soluble products on the market are either nanosizing CBD isolate, we cracked the code on how to make water-encapsulated, full spectrum CBD-rich oils without using any synthetic or synthetically modified compounds. In fact, we are the only company that can use certified organic, regeneratively grown plants to do it. 
CBD Sports Gel Frequently Asked Questions