Our Activated CBD Serum is made with the combination of Ojai Energetics' patented water-soluble, fastest-acting CBD technology and Annmarie Skin Care's signature wildcrafted ingredients. Using Annmarie's unique 3-step, proprietary energized botanical infusion process, the wildcrafted serum is packed with high-performance seed oils, antioxidant-rich botanicals, and synergistic plant stem cells to help support healthy skin. 
Features
Uses Ojai Energetics' fastest-acting, water-soluble CBD technology

Infused with clean ingredients like Mangosteen oil and Tremella mushroom extract

Best to use after cleansing for smoother and healthier skin

Made with certified organic and regenerative farming practices

 
Ingredients
Also known as cannabidiol, CBD is the non-intoxicating part of the hemp plant. Ojai Energetics CBD uses a patented delivery system to increase bioavailability up to 20x, and our Bioactive CBD Serum uses both water-soluble and fat-soluble CBD for the most potential absorption available. Ideal for soothing inflammation and irritation. CBD is rich in antioxidants, making it perfect for aging skin.
Mangosteen Oil: 

A potent ingredient, mangosteen oil is ideal for irritated skin. It also absorbs evenly without residue as light, nourishing oil. Great for promoting radiance and vibrant-looking skin, mangosteen oil revives dullness and ruddiness for a healthy complexion.
The product also contains the following:
Black Cumin Seed Oil

Tremella Mushroom Extract

Copaiba Balsam Oil


St. John's Wort Co2 Extract
Aloe barbadensis (aloe vera) leaf juice, Serum blend [*Aloe barbadensis (aloe vera) leaf juice, Squalane (olive oil derived), Carrageenan (red algae) extract, Saccharide isomerate (plant sugar complex), Aqua (water), Citric acid, Sodium citrate, non-GMO Xanthan gum (plant derived)], *Simmondsia chinensis (jojoba) seed oil, Citrus aurantium dulcis callus (citrus derived stem cell) culture extract, Skin-brightening complex [*Arctostaphylos uva ursi (uva ursi) leaf extract, *Glycyrrhiza glabra (licorice) root extract, Aqua (water), *Glycerin (vegetable derived) extract [*Emblica officinalis (amla) fruit]], *Ricinus communis (castor) oil, Aqua (water), *Glycerin (vegetable derived) extract [*Helichrysum arenarium (life everlasting) flower], Populus tremuloides (aspen) bark extract, *Glycerin (vegetable derived), Sodium ascorbate (mineral salt), Sodium hyaluronate (hyaluronic acid), Superoxide dismutase (SOD), non-GMO Xanthan gum (plant derived), CO2 extracts [*Hippophae rhamnoides (sea buckthorn berry) fruit, Rosa canina (rosehip) seed, *Rosa rubginosa (rosehip) seed oil, *Rosmarinus officinalis (rosemary)], Lavandula angustifolia (lavender) oil, Santalum album (sandalwood) oil. *Organically grown or wildcrafted.

100% MONEY BACK GUARANTEE
SECURE ORDERING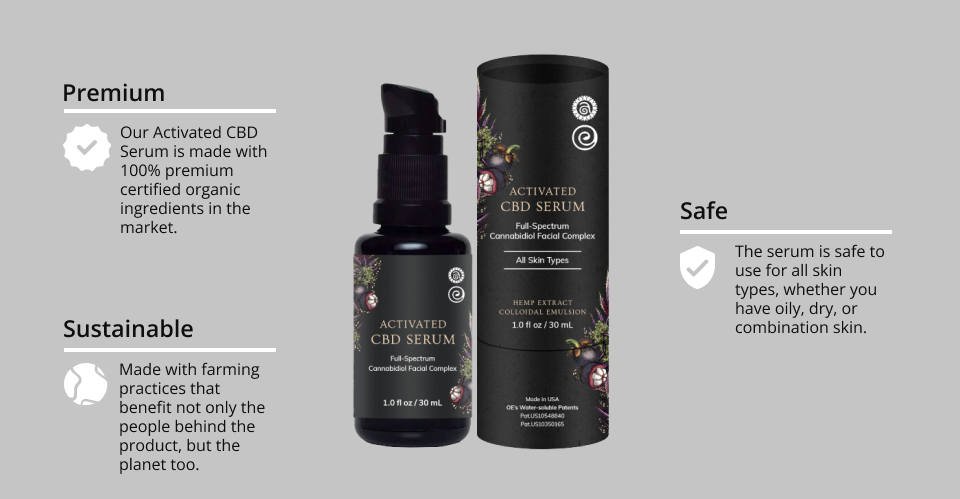 Gone are the days of relying heavily on chemicals and toxic processes in creating beauty products. In Ojai Energetics, we support regenerative farming practices that benefit not only the people behind the product, but most importantly, one that looks after the planet too.
Regular CBD oil is poorly absorbed by the body. In fact, 90% of the CBD consumed is destroyed by the liver and stomach acids before it can be used. Our unique CBD technology, however, uses a colloidal method that ensures the the highest level of absorption in the least amount of time possible.
Our collaboration with Annmarie Skin Care allowed us to create a product that is completely vegan and 100% cruelty-free. Unlike other generic skin care products in the market, our full-spectrum Activated CBD serum focuses more on invigorating inner wellness to influence outer beauty.