The next time you need a self-care day, why not try something extra special? A CBD bath bomb will take your bath to a whole new level, allowing you to unwind and soak up the benefits of cannabidiol and aromatherapy. Fortunately, it's simple to DIY this delightful indulgence, and the process can be relaxing in itself! We're sharing a basic recipe to get you going on your CBD bath journey, but feel free to customize it to incorporate your favorite scents, colors, and effects.
What is a CBD bath bomb?
The hint is in the name—a CBD bath bomb is simply a bath bomb infused with cannabidiol, also known as CBD. CBD is a cannabinoid found in the hemp plant that works with our internal endocannabinoid system to produce various beneficial effects. Unlike THC, CBD will not get you high, whether it's in a bath bomb or otherwise. 
CBD bath bomb benefits
After a long day, there's nothing like decompressing with a hot, nourishing bath. Add CBD to the mix, and you've got yourself a recipe for relaxation! A CBD bath bomb is a creative and fun way to feel the full benefits of CBD while enjoying a soothing bath.
Essential oils will nurture your skin, and our water-soluble technology will allow the CBD to absorb easily into the skin. After a strenuous workout or just before bed, draw a bath, pop in a CBD bath bomb, and get ready to take relaxation to a whole new level.
How to determine dosage for a CBD bath bomb
With so many CBD bath bomb recipes online, finding the correct dosage for your CBD bath can seem confusing. Ojai Energetics Full Spectrum Hemp Elixir is approximately 20 times more potent than other brands, so we suggest using between one and six full droppers of our tincture per bath bomb. 
In the recipe below, we've suggested two droppers of our tincture per bath bomb, but feel free to increase this amount as you deem necessary, up to a maximum of six droppers per bath bomb.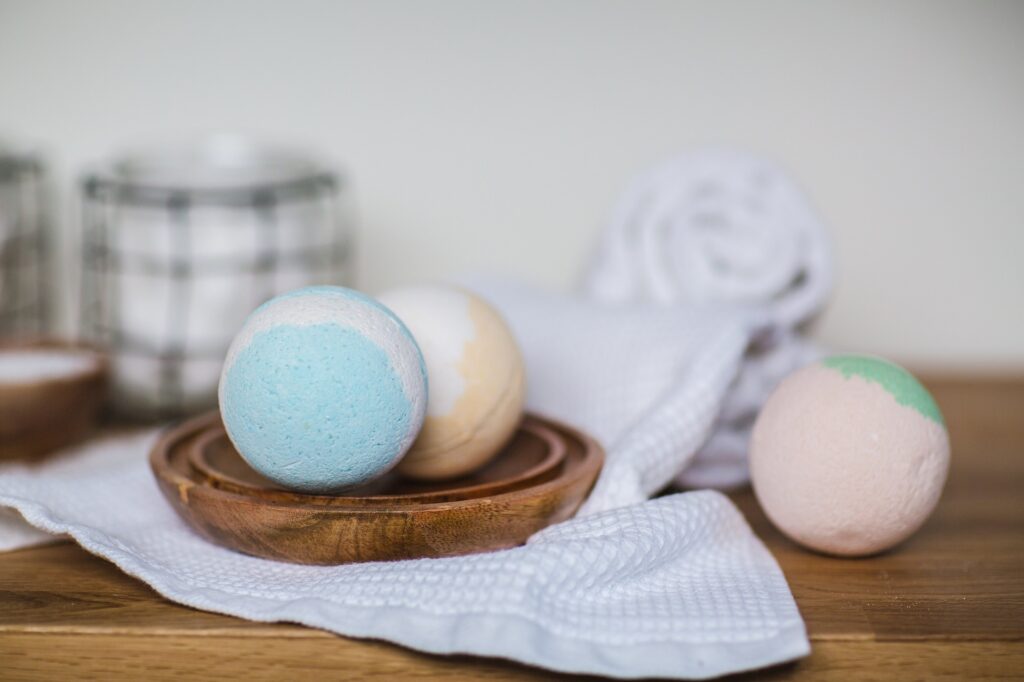 CBD bath bomb recipe
This recipe makes three CBD bath bombs. Each bath bomb will contain two full droppers of our high-potency CBD hemp elixir. 
Ingredients
½ cup baking soda

¼ cup citric acid

¼ cup Epsom salts

¼ cup arrowroot starch/flour

1 tablespoon coconut oil, melted

5-10 drops of your favorite essential oil, such as lavender

6 droppers of Ojai Full-Spectrum Hemp Elixir 

Water (if needed)
Tools
Small mixing bowl

Large mixing bowl

Whisk

Bath bomb molds or a silicone muffin pan
Method
Mix the dry ingredients.

Combine the baking soda, citric acid, salt, and arrowroot in a small mixing bowl.
Combine the wet ingredients.

Add the coconut oil, essential oil, and CBD oil to a large mixing bowl and whisk. For a CBD boost, replace regular coconut oil with

Ojai CBD Coconut Oil

.
Add the dry to the wet.

Slowly add the dry ingredients to the wet mixture, whisking gently but constantly.
Check the mixture.

The mixture should appear dry but be able to clump together. If it's too dry, add a few drops of water and mix again. 
Pack your molds.

Press the mixture firmly into the molds, overfilling them slightly. Press the molds together and scrape away any excess.
Set.

Allow your bath bomb to set in the molds for one hour. Remove them from the molds and air dry for 12-24 hours before using. 
How to use a CBD bath bomb
Once you've made the bath bombs, it's simply time to enjoy. Fill up your bathtub, climb in, and pop in a bath bomb! Watch it fizz away and spend as long as you'd like enjoying the effects.
Some of our favorite moments to unwind with a CBD and essential-oil infused bath are:
Post-workout

After work

Before bed

On a weekend away
How long should you soak in a CBD bath bomb?
Following our recipe using our fast-acting, water-soluble CBD hemp elixir, you'll start feeling your desired effects almost instantly. Relax in the tub for as little as 15 minutes and as long as it takes for your fingers to turn pruney.