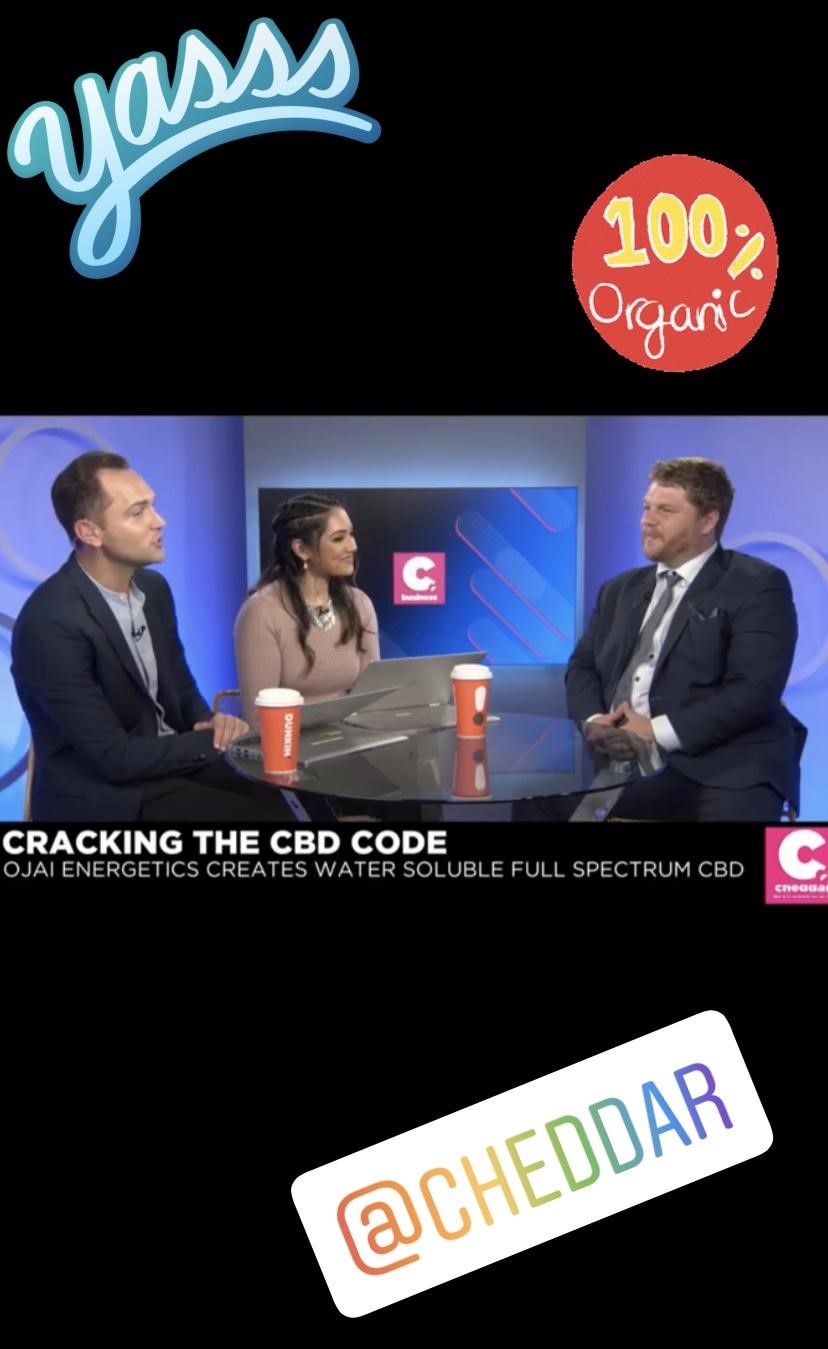 It was a "mind-blowing" science and CBD day at Cheddar's New York studio this week when Ojai Energetics CEO and Founder Will Kleidon stopped by for a CBD chat. The Cannabiz staff at Cheddar was wondering how to crack the CBD code. To find out they invited Kleidon to discuss the science and technology behind CBD.
Cheddar hosts Nora Ali and Baker Machado kicked off the segment with deep dive into the chemistry side of cannabis and then asked Kleidon break it down into simple terms on effectiveness, dosage and how CBD influences the human body.
Cheddar Asked: What's the Ojai Energetics Difference?
"Ojai Energetics CBD is water soluble that delivers effects in as little as 30 seconds. Regular fat-based CBD can take 30 minutes before the user feels any effect and the amount of fat in the CBD makes it less efficient," said Kleidon
The full spectrum CBD oil is encapsulated in bubbles of water without using synthetics. Instead of using synthetics, it uses certified organic products to encapsulate that lets it get right into the bloodstream. By using this method, the user can feel an effect almost immediately.
The bioavailability is also much higher so you can get a functional dosage using way less.
About CBD Dosage
"The proper dosage for CBD is between 250mg to 500mg of fat soluble equivalent to feel an effect." Kleidon told Cheddar's Machado.
"You can pinpoint a perfect dose using the flavor modulation unique to our tech. A proper dose will taste sweet like honey, and if it tastes bitter, it is in a less effective dosage amount," he said.
Can CBD Help Athletes?
"Yes, CBD is very popular among athletes because when athletes perform extra exercise on their bodies, the CBD oil for athletes helps balance it out and buffer the oxidative stress levels," noted Kleidon.
As a result, Ojai Energetics works with numerous athletes and is looking into joining the Collegiate and Professional Sports Dietician Association (CPSDA) for further testing on its products.
You can find the full interview with Will Kleidon on Cheddar here.
Follow Ojai Energetics on Facebook, Twitter, Instagram, and Linkedin to stay up to date with the latest news and updates.
About Cheddar
Cheddar is the leading post-cable networks company. Its programming is available on Sling TV, DirecTV NOW, Hulu, YouTube TV, Sony PlayStation Vue, Snapchat, fuboTV, Philo, Amazon, Twitch, Twitter, 60% of smart TVs in the U.S., and Facebook. Cheddar currently broadcasts two live video news networks: Cheddar Business, which covers the most innovative executives, founders, products, and technologies transforming our lives and economy, and Cheddar News, a fast-paced, young, non-partisan general and headline news network. The company broadcasts from the trading floor of the New York Stock Exchange, WeWork in Los Angeles, and the White House. Cheddar was founded by Jon Steinberg, President and Chief Operating Officer of BuzzFeed from 2010 to 2014. Its investors include Lightspeed Venture Partners, Raine Ventures, Goldman Sachs, Liberty Global, Comcast Ventures, AT&T, Amazon, Antenna Group, Ribbit Capital, The New York Stock Exchange, Altice USA, 7 Global Capital, and Dentsu Ventures.